What Medgeeks is all about....
Hey Medgeeks...Andrew here. For those of you who don't know me, I started Medgeeks in 2013 to help students and clinicians get ahead in all aspects of medicine.
When I started PA school (UC Davis) in 2010, there weren't any quality resources I could turn to. Everything was either over simplified or overly complicated. As soon as I graduated in 2012, I made it my mission to create the best high yield review on the market to help students master medicine.
Aside from starting Medgeeks, I immediately began working full time in primary care and OBGYN as a solo provider. The more I practiced the more I started to realized how unprepared I was. It wasn't that I lacked the medical knowledge per se. But, I soon realized there was so much our program didn't discuss about the realities of medicine.
I quickly realized I wasn't alone. Because I started Medgeeks, I was fortunate enough to have thousands of conversations over the years with practicing PAs, NPs, and physicians; they all felt the same.
Many students and clinicians often focus only on the medicine, but tend to neglect everything else because they don't view it as equally important. But, once in practice we quickly realize that we have an incomplete picture on how things actually work.
After-all school is geared towards the diagnosis and management of the hundreds of diseases you're expected to know (and we all know how precious time is). Because of this, we only spend our time learning the medicine.
Don't get me wrong this was 100% necessary and important. Things are done that way for a reason. The reality is you do practice medicine. And so your clinical knowledge is important...
...it's just not the only thing that's important for you. After you pass the boards, it's imperative you start to broaden your area of focus.
Sadly, most clinicians don't realize this until it's too late; they don't realize the ramifications until they burn out.
So, our goal with Medgeeks is to help all clinicians live a happy and fulfilled life (in all areas).
Medicine is the only profession where you can't just "mail it in."
If you aren't fully present, mistakes will be made.

If you are burnt out, mistakes will be made.

If you aren't happy and fulfilled, mistakes will be made.
All these mistakes are at the expense of another human being's health. This is a BIG deal.
For the last 9 years, we've been working to simplify and address all the components necessary to achieve success in medicine.
The truth is we need to address every part of the clinician (taking a holistic approach). If we neglect one part of the equation, then the clinician is at risk for burnout. This in turn leads to medical errors.
As a result, the patient and clinician both suffer.
Remember, you can't help your patients (consistently) without first helping yourself. I share some thoughts regarding the myth behind "work life balance" in the video below...
Side note: If you're interested in joining me live to discuss the topics outlined in the video above in more detail, then click here to register for our free Clinician Mindset workshops.
I've separated the major components that need to be addressed into 5 core pillars:
Personal standards/goals

Professional standards/goals

Finances

Core medical knowledge

Patient flow optimization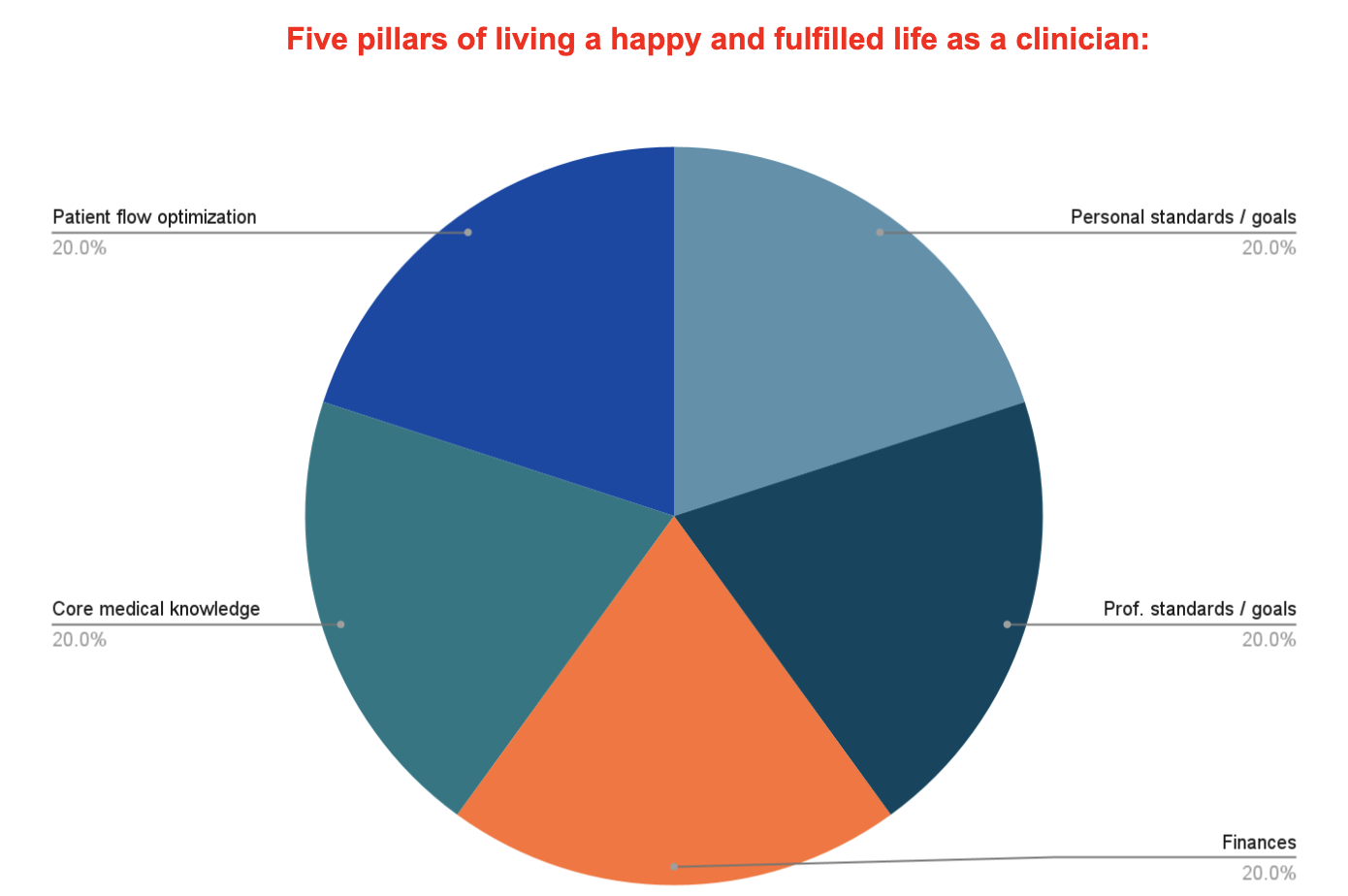 Pillars 1, 2, and 3 are
universal
across all types of clinicians and specialties:
Personal standards/goals

Professional standards/goals

Finances
Pillars 4 and 5 will change depending on the type of clinician and specialty involved and thus requires a more nuanced discussion/approach:
Core medical knowledge

Patient flow optimization
For example, the practice of primary care medicine (core medical knowledge and patient flow optimization) is quite different from the practice of emergency medicine.
Each pillar requires a certain level of knowledge, focus and practice. Our goal is to have you proficient in each pillar because when that happens your life will be radically transformed. Lives have been changed, marriages have been saved, and careers have been salvaged because of the philosophy we teach.
So, if you're looking for help to decrease burnout and finally fall in love with life again, then I invite you to register for our free weekly Clinician Mindset sessions here.
If you're looking to focus on the medicine (core medical knowledge and patient flow optimization), then I invite you to subscribe to our free clinical medicine podcast here and to learn more about our primary care mentorship here.
For those in school, we want to give you our 2021 cardiology and pulmonology board prep sections on the house. Click here to get free immediate access.
If you have any questions, comments, or concerns you can always reach us via email: team@medgeeks.co
Cheers to your success in medicine!
-Andrew
Founder of Medgeeks