Croup
By
Daniel Champigny
- Jun 15, 2021
Croup
-
The podcast above and article below share different information. Listen and read to both to get the most out of this post!
-
It is always very interesting to me how when the seasons change, so do the medical conditions that come into our office for evaluation. As the weather has become chilly, we have started to see much less "hand-foot-and-mouth" and much more "croup". Our primary care office has become yet again a cough and croup clinic, with many young babies and toddlers coming in for evaluation.
Today, we will focus on croup, or laryngotracheobronchitis for our students out there. If you are a student on rotations in the pediatric office, try dropping that long mix of syllables and your attending will either label you as a gunner or marvel at your clinical knowledge!
Clinical Manifestations
Croup is an acute viral illness, also known as the above "laryngotracheobronchitis", which presents in young children with a characteristic set of signs and symptoms. It is the most common cause of upper airway obstruction in children (Debiegun, 2016) and an important cause of visits to the urgent care, emergency department, and family practice office in the autumn to winter months.
Pathphysiology
The typical picture is a child between 6 months - 3 years who presents with a new onset in the transition from fall to winter.
Mucus production and airway edema cause a narrowed airway, resulting in increased work of breathing, cough, and wheezing.
A prodrome of recent upper respiratory infection is also common in the history as pathogens from the sinuses and posterior oropharynx migrate down to the lower airway. (Debiegun, 2016).
What pathogens cause croup?
The most common cause of croup is Parainfluenza virus 1,2,3. Historically, Haemophilus influenza B was a common cause, but thanks to vaccination efforts, this is no longer routinely seen in clinical practice. However, the PANCE loves to ask us not only what causes conditions, but what also previously caused the condition.
How do children with croup present?
Presentation is usually in the months of October through March. Croup is high on the differential as soon as a young child is put on my schedule for cough or congestion.
The classic presentation for the boards includes:
A young child presenting with new onset barking "seal like" cough with a previous history of an upper respiratory infection, who is not getting better.
Parents usually indicate that they thought the cough was getting better, but seemed to get worse again, classically at night.
Children may have stridor
Increased work of breathing
Nasal congestion
Sore throat
Ear pain
or confusion/fatigue.
Sometimes in a severe or obvious case, the diagnosis can be made even prior to walking into the room, as the cough can be very audible.
Another classic pearl or hint on a board exam or end of rotation exam is that croup can classically improve with cold air. A classic test question includes a stem that tells the test taker that "the cough/symptoms seemed to get better on the drive to the emergency department, with the cold winter night air improving symptoms."
Physical Examination
The first thing that the clinician must complete upon the examination of the child is a decision of airway patency and to determine whether respiratory distress is present. If the child is comfortable, playing with Mother, laughing, this is great.
Extreme Croup
Children with evidence of respiratory distress include signs/symptoms of:
Obvious stridor
Sitting in a tripod position
Cyanosis
Obvious increased work of breathing
Or speaking in short sentences
Additionally, any of the following signs need immediate care:
Tachypnea
Nasal breathing
Intercostal or abdominal retractions,
Obvious air hunger are concerning.
Moderate Signs of Croup
For those who are more comfortable:
A thorough examination should be performed.
As discussed above, the barking cough may be audible even without formally examining the patient.
Cough may be spasmodic or intermittent during the exam (Debiegun, 2016).
Fever may be absent or low grade
Tachycardia due to agitation is common
Tachypnea is also seen routinely.
Auscultation of the lung fields usually reveals stridor and wheezing and rhonchi are also possible.
Hypoxia is not usually seen with croup.
How do we diagnose croup?
Croup is a clinical diagnosis. As discussed above, in the right time of year as well as a supportive exam, usually no advanced imaging or laboratory testing is needed.
A white blood cell count can be elevated but not always.
Rapid antigen testing is available, but usually does not change management of the patient.
Our PA programs love to test us on the classic x-ray finding, which is the "steeple sign", as seen below courtesy of the "New England Journal of Medicine."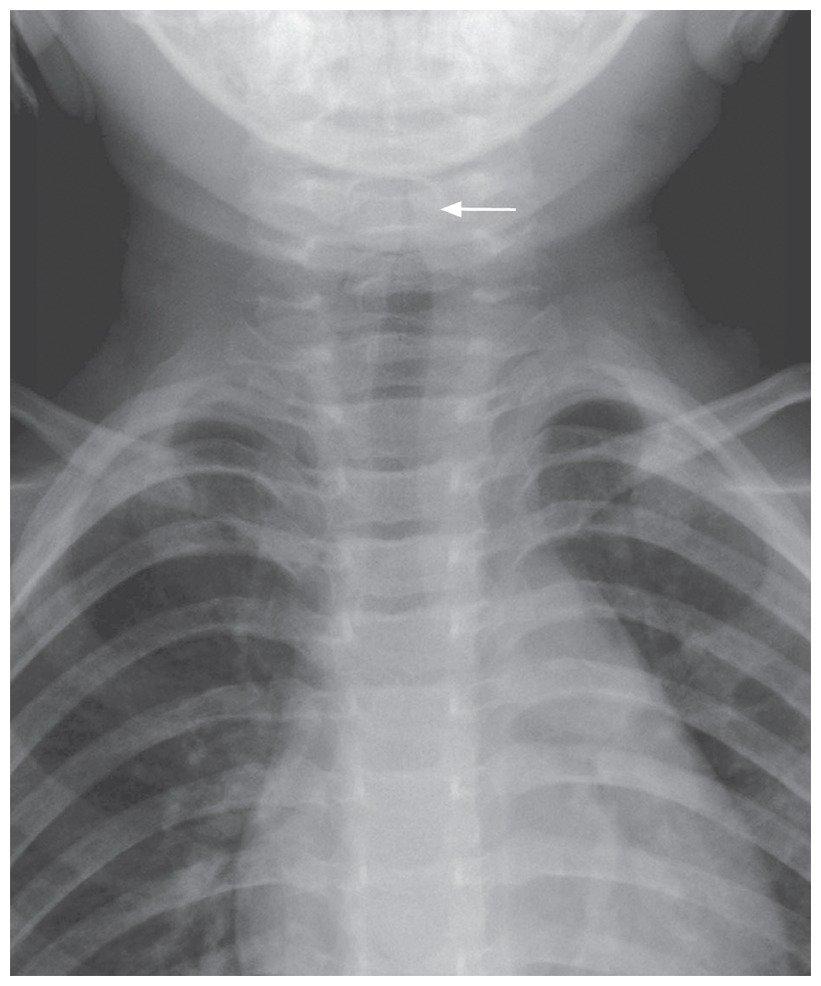 It is important to note that children coming in to the ED or office are already agitated and having difficulty breathing, so clinicians should be cautious to avoid unnecessary testing. If lab work will not change management of the patient, why order it and subject the child to a stressful blood draw which could worsen respiratory symptoms?
Treatment - Emergency department
The treatment of croup can be accomplished depending on severity.
Racemic epinephrine is commonly given in the emergency department to help improve symptoms and breathing.
Onset is quick and can be repeated in a few hours over the course of an ED visit.
Treatment Outpatient
In the outpatient setting, I commonly prescribe a pulse dose of prednisolone which improves symptoms dramatically. Antibiotics are not routinely indicated. Oxygen supplementation may improve symptoms, but may also agitate the patient. In cases of respiratory distress with airway collapse, immediate intubation is needed.
What can parents do at home?
Home remedies that are commonly used and successful include exposing the child to cold air during the winter, which improves breathing as well as steam from a hot shower. Many parents report using these techniques successfully in the evenings when cough and other symptoms worsen.
The vast majorities of patients with croup do well clinically and make a full recovery. Anticipatory guidance is extremely important in croup, as a child who was seen by the PCP in the afternoon can have worsening of symptoms.
My routine advice includes a dedicated discussion and education session to educate patients on the signs and symptoms of respiratory stress in children, including educating parents on how to identify intercostal, abdominal, and clavicular retractions.
References
Debiegun, G.C. (2016). Croup. The 5 Minute Clinical Consult. Wolters Kluwer.
New England Journal of Medicine: Radiograph demonstrating "Steeple Sign".
This article or blog post should not be used in any legal capacity whatsoever, including but not limited to establishing standard of care in a legal sense or as a basis of expert witness testimony. No guarantee is given regarding the accuracy of any statements or opinions made on the podcast or blog.